---
Classical Journal / Classical World
To commemorate the 100th birthday celebration of Leonard Bernstein, the beloved and legendary composer, conductor and musician, concert houses around the world bring you performances showcasing his lifetime masterpieces.
Celebrate the 100th birthday of the legendary Leonard Bernstein with performances in the world's best concert halls. Hailed as an iconic educator, composer, conductor, musician, cultural ambassador and humanitarian through his life and works, the maestro left an irreplaceable mark on the world. Find here the concerts showcasing his masterpieces and experience the centennial commemoration of the one and only Leonard Bernstein.
Centennial of Leonard Bernstein
At the Philharmonie de Paris, see the Orchestre de Paris pay homage with Bernstein's great Mass. Together with the Chœur de l'Orchestre de Paris and baritone Jubilant Sykes, the orchestra performs Bernstein's great Mass which combines the classical music tradition with jazz and rock. Wayne Marshall is the conductor of the evening.
Find at the Auditori de Barcelona Nikolaj Zanider performing Bernstein's Symphony 'Kaddish', dedicated to John F Kennedy. Kazushi Ono will lead the Barcelona Symphony Orchestra in this unique masterwork. L'Auditori will also present West Side Story performed by the OBC. With ten Oscars, the love story between Maria and Tony is one of the most distinguished romantic tales in musical and movie history.
The Tel Aviv Museum of Art presents a moving program with the Israel Chamber Orchestra with violinist Elina Gurevich and flutist Eyal Ein-Habar. At the Shanghai Symphony Hall, see the Shanghai Symphony Orchestra with pianist Philippe Entremont.
Prague's Municipal House presents the Czech National Symphony Orchestra led by Steven Mercurio and the Prague Symphony performing the Chichester Psalms with stellar musicians. Bernstein sets the words of David, including the 23rd Psalm, giving glory and honor to the Lord in music that is by turns ethereal and conflicted. Praising the Almighty in the language of music is also the aim of Felix Mendelssohn's Second Symphony – the Lobgesang or 'Hymn of Praise', source of one of the world's most popular hymns, 'Now Thank we all our God'.
Recommended Posts
07 Jun 2019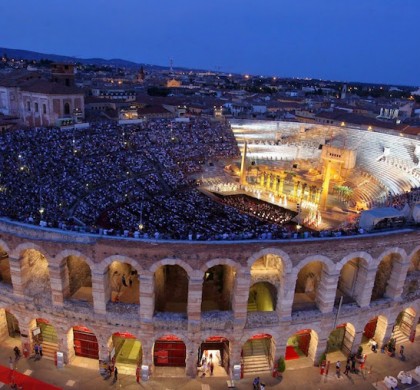 13 Jun 2018