---
Itineraries
Steeped in history and tradition, Budapest is a city which easily conjures feelings of mystery, adventure, and romance—and all the more so during the holidays when the days are short, the nights are cold, and yet a vibration of excitement and festivity is in the air. We offer you a Christmas tour of Budapest to help you make the most of your seasonal experience.
EVENING ARRIVAL
Boat cruise
For an unforgettable introduction to Budapest, consider a scenic cruise along the Danube with dinner and live music. Riverfront sights that are beautiful by day are absolutely breathtaking all lit up after dark. Ships are heated, or you can go up on deck to enjoy a toast, a romantic moment, or simply the bracing winter air.
DAY 1
Buda Castle
Originally built in 1265, this sprawling castle and maze-like complex of buildings poised atop Castle Hill has been sacked, destroyed, and rebuilt several times during its long history. Today it is part of the Budapest UNESCO World Heritage site and houses the Budapest History Museum, the Hungarian National Gallery, and the National Széchényi Library with its collection of rare antique books. Budget your time wisely—you can easily spend a whole day here.
Tip: Purchase the Budapest Card for free entry to seven museums.
The View from Fisherman's Bastion
Get inspired with a stunning panoramic winter view of the city from this 19th century lookout tower. The seven turrets represent the seven Hungarian tribes who united in 895 to form the present-day nation. Fisherman's Bastion (Halászbástya) is one of the most frequently visited sites in Budapest, and on a clear day you can see forever. For a break from the crowds, visit the café on the terrace, where you can enjoy great views with a warm beverage.
[rev_slider slider4]
St Stephen's Basilica
Richly ornamented with marble and gold as well as stunning frescoes and stained glass, the splendor of St. Stephen's Basilica (St. Istvan Bazilika) is immediately apparent, and superb acoustics make Budapest's most majestic cathedral the perfect setting for an evening with the classics. Enjoy concert performances by Hungary's leading organists and oratorio singers. The experience is truly sublime.
Market by St. Stephen's
You can't miss the St. Stephen's Square Christmas Market located right in front of the Basilica. You'll find market stalls filled with unique handcrafts provided by the National Association of Folk Artists, a skating rink right on the square (with weekend skating lessons for kids), traditional folk dancing, live music, a juggling playhouse, and, of course, mulled wine, roasted chestnuts, and must-try Hungarian snacks like kürtőskalács, also known as chimney cake—don't fret the pronunciation since most vendors will speak English. This delicious old-world pastry is grilled on an open fire before your eyes, and you can pick from an assortment of toppings like cinnamon, almond, walnut, or coconut.
DAY 2
Stroll through Budapest
A winter walk is the perfect way to experience Budapest during the holidays, whether you're drinking in the tranquility of Buda's scenic woods and hills, or soaking up the social bustle of Pest's abundant shops, restaurants, and attractions.
Wine tasting at Faust Wine Cellar
A visit to this cosy Castle District wine cellar is a must for wine-lovers, where a wide assortment of Hungarian wines and pálinka are available to sample or purchase. With only five tables, guests at the Faust Wine Cellar receive an up close and personal experience with the sommelier. There is no set tasting schedule. Drop in anytime before 5:00 pm for a tasting, or book your table ahead of time with an online reservation. (Be sure to check the special winter opening hours.)
[rev_slider slider5]
Pre-Concert Spa
Relax away the day's activity in the famous thermal pools and old world mineral baths at Gellert Spa or sooth your weary muscles with natural hot springs and aroma massage at Szechenyi Baths. Check for Christmas opening hours and special couple's massage deals.
City Park Ice Rink
This ice skating rink in Budapest City Park was first opened in 1870, and it has been the setting for numerous international skating competitions. Fun, festive, romantic: rent a pair of skates and glide around the ice in front of the curious Vajdahunyad Castle. Tip: Between the lack of guardrails and heavy crowds, it's a good idea to bring a scating buddy if you're a beginner.
[rev_slider slider24]
Concert at Palace of Arts or Liszt Academy
A Christmas concert at one of Budapest's world-class classical music venues is a must. Opened in 2005, the Budapest Palace of Arts is part of the new Millenium City Center, built to commemorate more than 100 years of Hungarian cultural history. The Bartók National Concert Hall, with its unparalleled acoustic standards, features one of the largest pipe organs in Europe.
With its gilded ceilings, opulent glass chandeliers, and colorful frescoes, fans of Art Nouveau are in for a real treat at the Liszt Academy of Music. Founded in 1875, the Academy houses a world-class music conservatory and concert space as well as an important collection of books and manuscripts donated by Liszt.
Christmas Market on Vorosmarty-Square
Your night won't be complete without a visit to Budapest's oldest and most charming Christmas market on Vorosmarty Square. Postcard perfect, this market is a treat for the senses. Look forward to gastronomy, folk art, last-minute gift shopping, live music ranging from folk bands to jazz to traditional Christmas carols, and keep an eye out for the festive laser light show on the facade of Café Gerbeaud.
Extra Budapest Christmas Tips
Starting in early December, you can enjoy the scenic city route of Budapest's special Christmas streetcar.
Invest in warm clothing, as spending 1-2 hours outdoors at the Christmas markets can be chilly, even with a cup of mulled wine in your hands. Winters in Budapest are cold. Needless to say a good warm coat is necessary, but you'll also need warm, waterproof footgear, as well as hat, scarf, and gloves, especially on windier days. Brrr!
Recommended Posts
08 Jan 2017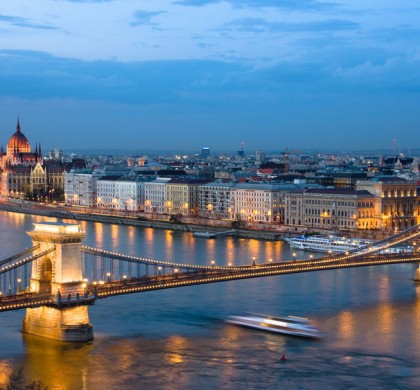 08 Apr 2016
04 Apr 2016